Learning everything about RVing can become overwhelming quickly, but hopefully, this article will shine some light. We have researched the most asked RVing questions and found the answers for you. Here are 20 answers to RV questions a beginner might have.
Let's explore everything about RVing for the RV beginner.
1. What does RV stand for?
RV stands for recreational Vehicle – Recreational vehicles are generally any motor vehicle designed or modified for use over unimproved terrain if used for recreation or pleasure of a public way or vehicle designed for recreational use such as for camping, usually a motorhome.
2. What are the different types of RVs?
motorhomes
Class A – Class A motorhomes are built using a very strong, heavy-duty frame. These frames are built on either a commercial bus chassis, a commercial truck chassis, or a motor vehicle chassis. Plenty of storage space and a roomy interior are what define the Class A motorhome.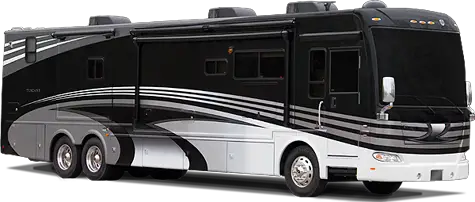 Class C – A Class C is a motorhome built with a cab or cut-away chassis. A cab/cut-away chassis provides a front structure that looks like a van, including seats, a dash, opening doors, and body sheet metal. Many people like Class C because it is familiar to their own automobile.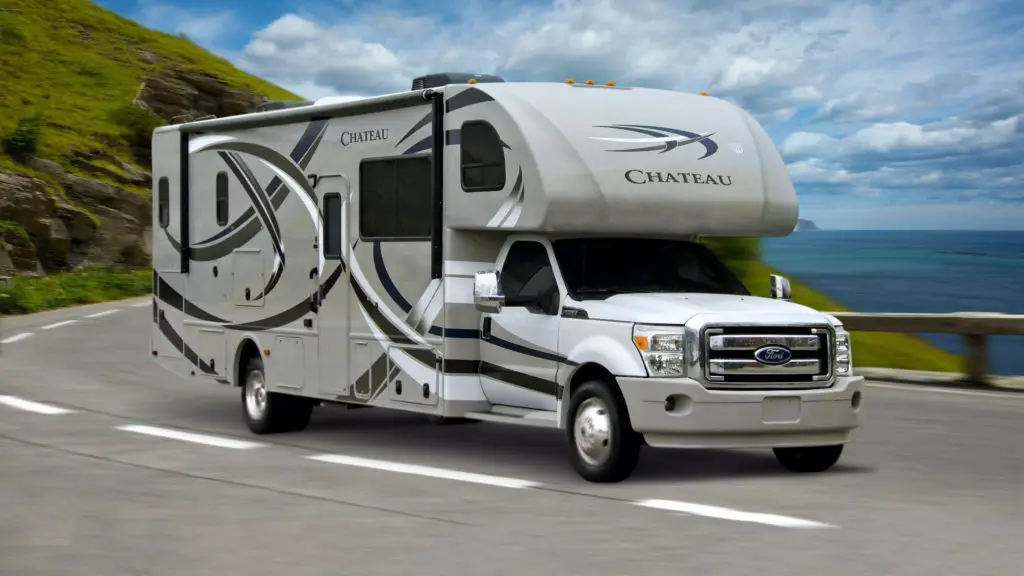 Class B – Class B motorhomes are small, streamlined, and ready to roll. Nimble and more fuel efficient than Class C motorhomes, Class B motorhomes offer living space best suited for small groups. Often called Camper Vans, Class B motorhomes are built using automotive vans or panel trucks.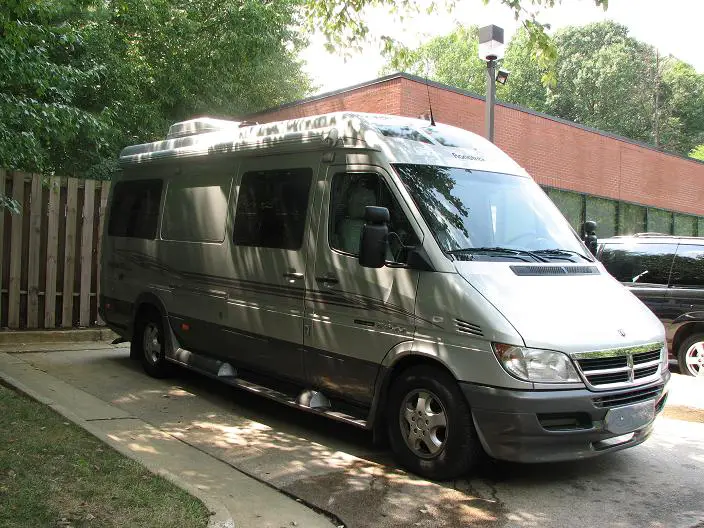 Fifth Wheel – The "fifth wheel" in the name refers to the U-shaped coupling mounted onto the cargo bed of the tow truck. So, a pin box on the front of the fifth-wheel camping trailer locks onto the fifth-wheel coupling on the truck. It's similar to the device found on over-the-road tractors hauling commercial semi-trailers.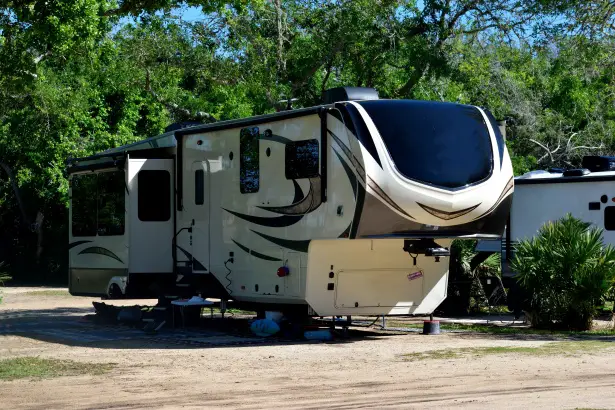 RV types
Travel Trailer – Travel trailers, while similar to camping trailers in many ways, are more closely related to RVs or mobile homes. Some would call travel trailers a general term for any mobile living trailer. However, the most common definition is a lightweight RV that a conventional ball hitch can tow.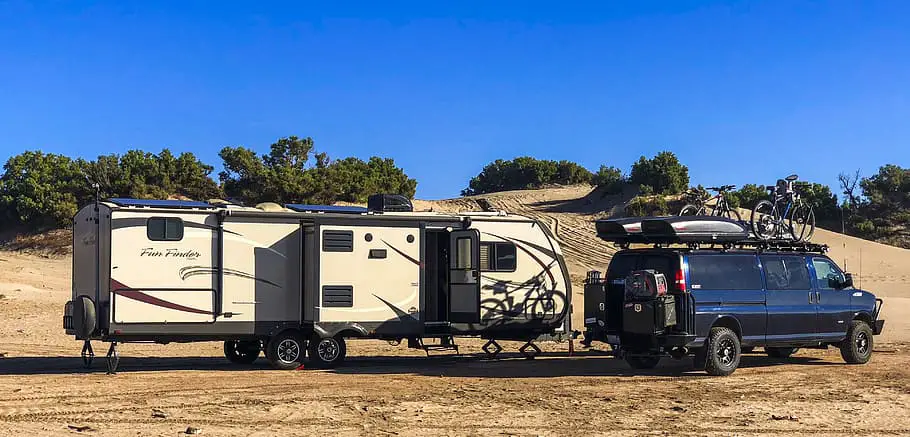 Teardrop – A teardrop trailer, also known as a teardrop camper trailer, is a streamlined, compact, lightweight caravan, which gets its name from its teardrop profile.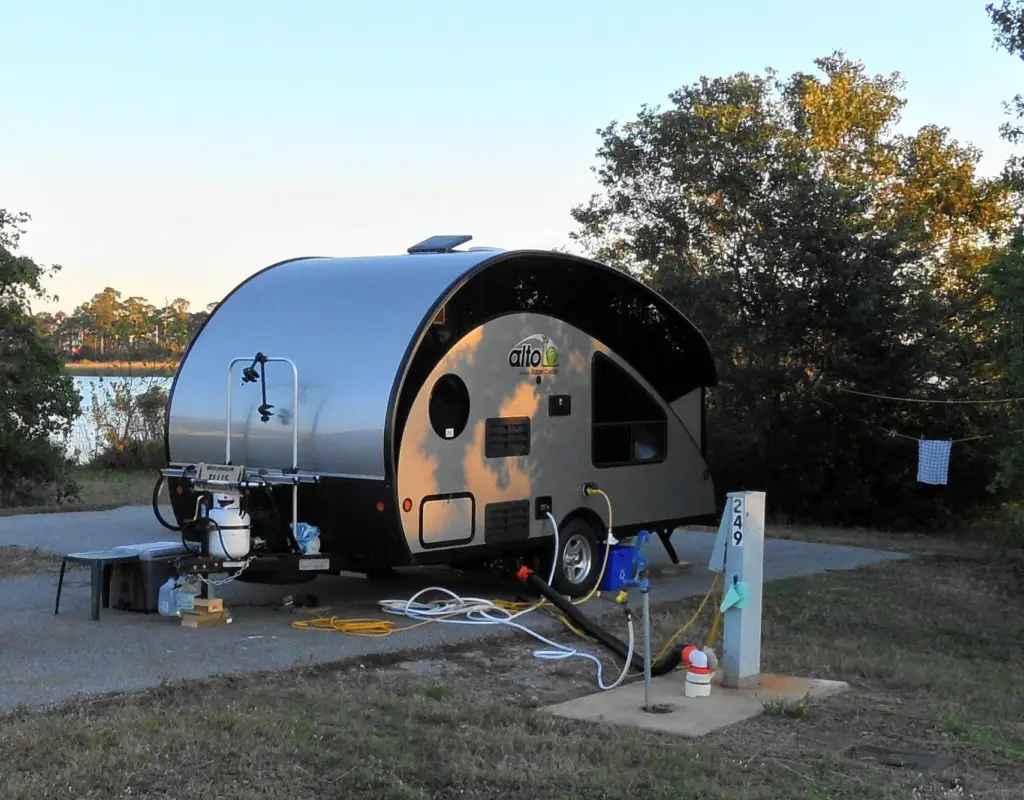 Truck camper – A truck camper is a demountable recreational vehicle (RV) that is loaded and unloaded from the bed of a full-size or mid-size pickup truck. The common feature is the ability to demount the camper from the truck.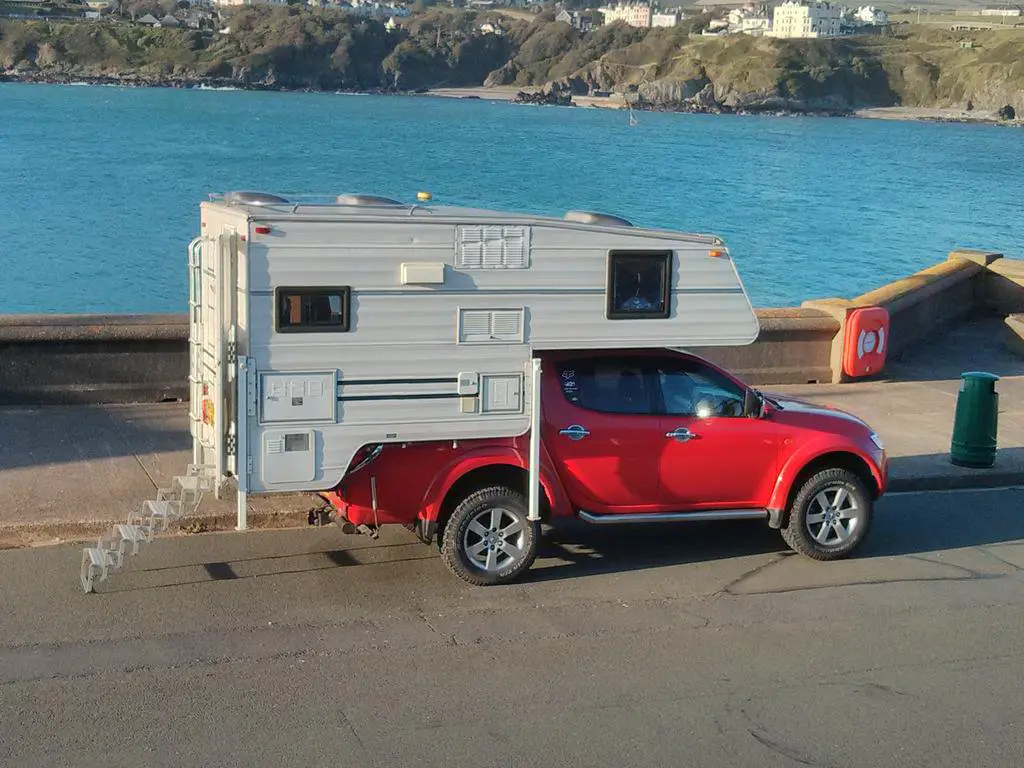 Popup camper – Pop-up campers, also known as fold-out campers or tent trailers, are camping trailers that collapse down into a much smaller, portable package.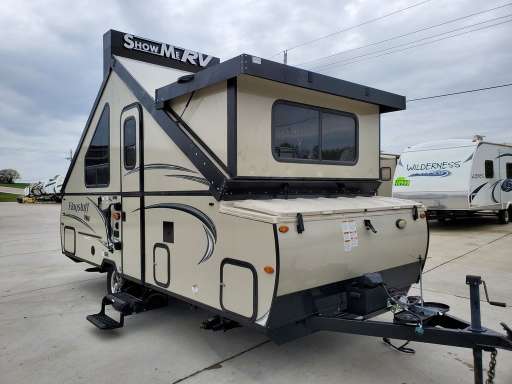 20 most know questions asked by an RV beginner
3. Do I need a special license to drive an RV?
Usually not, for RVs in most states, a standard driver's license is all you need to drive your RV. If your RV, towing vehicle, or motorhome clocks in above the maximum length or above 26,000 pounds, you may need a special license to register, own, and operate it in certain states.
4. What are Grey and Black Tanks?
The black tank is a holding tank attached to the underbelly of the RV. All of the waste from the RV toilet empties into the black tank. Black tanks vary in size anywhere from 15 gallons to 50 gallons.
The gray tank holds wastewater from every source other than from the toilet, which includes your kitchen sink and bathroom sink. Soapy water, toothpaste, dust and dirt from your afternoon hike, or anything else you rinse down the sink drain ends up in the gray tank.
5. What do you do for the internet?
What Are My RV Internet Options?
Satellite – dedicated internet service from a satellite provider.
Cellular data – a one-stop shop for internet and telephone needs.

Public WiFi – coffee shops, RV parks, and truck stops often provide this.
Multiple sources – You can combine and use more than one source to strengthen or boost your signal.
6. Do I need separate insurance for my RV?
Yes, if it is a motorhome. You must have at least the state minimum for liability coverage because they are driven and not towed. Much like your car insurance but usually less costly depending on your RV and the coverages added.
20 most know questions asked by an RV beginner
7. What are GVW, GVWR, and GCWR?
GVW – gross vehicle weight: curb weight or dry weight without any added supplies, people, or fuel.
GVWR – gross vehicle weight rating: Simply put, GVWR is the maximum total weight of your vehicle. Tells you how much your vehicle can safely weigh.
GCWR – gross combined weight rating: This is the maximum allowable weight of both the loaded tow vehicle and the loaded trailer that the tow vehicle can handle safely.
Payload capacity: This is how much weight can be carried in the vehicle, people, fuel, camping equipment, and weight from the tongue of the added trailer.
Tongue weight: The weight from a trailer or fifth wheel transferred to the rear of the tow vehicle. The trailer would add pressure/weight to a hitch and fifth wheel over the rear axle in a truck bed.
8. Where do you do laundry?
Keeping up with the laundry while traveling in your RV can be a challenge at times, but there are multiple ways in which you can complete this task.
Laundromat – bring quarters and supplies
Onboard washer and dryer if space and cost allow
Portable washer and dryer – Smaller more affordable units that can be set up and stored as needed.

Campground laundry facilities
9. What is meant by the 10-year rule?
The ten-year rule at RV parks. "The Ten Year Rule" is a code that's enforced at many upscale RV parks around the country. The rule implies that RVs older than 10 years are too weathered and worn and should be prohibited. The rule is often enforced regardless of how pristine the RV actually is.
10. What else will I need when I buy my RV?
When you first buy an RV, you will have must-have items to use the amenities that your RV provides. These products range from cords for power hookups to sewer hoses to make bathroom use possible. There will also be numerous items that you will want just to make daily activities more comfortable.
Check out the Top 10 must-have items for your first time out
20 most know questions asked by an RV beginner
11. What is Boondocking?
In short, boondocking is off-the-grid RV travel. Sometimes referred to as "dry camping," boondocking is any time you camp in your RV without water, sewer, or electrical connections.
12. What is the best RV club to join?
8 Best RV Memberships To Join (2021 Favorites)
Good Sam Club.
Passport America.
Escapees RV Club.

Boondockers Welcome.
Harvest Hosts.
KOA Value Kard Rewards.

Thousand Trails.
Happy Camper Half Price Camping Club.
13. Where can I stop on the road for a quick wink?
Can RVs stay overnight at truck stops?
Truck stops aren't just for trucks, tractor-trailers, and oversized rigs anymore. RVs are parked overnight at truck stops across the country every day. If you make sure you observe the rules of truckers, you'll be fine. Be courteous, park straight, and be gone by mid-morning if you choose to park here.
Can you park an RV at Walmart?
Can I park my RV at a Walmart store? While they do not offer electrical service or accommodations typically necessary for RV customers, Walmart values RV travelers and considers them among our best customers. Consequently, They do permit RV parking on their store parking lots when there is availability. Best to check with individual store managers for their approval.
Can I sleep in my RV at a rest stop?
Rest stops are a great place to stop and stay for one night or maybe even two because it is legal to do so. This means you won't get a tap on your window during deep slumber! Most rest stops have 24-hour bathroom facilities and some even have picnic tables. don't pop out your slides and lawn chairs!
Can I sleep in my RV while traveling?
No, everyone must always be secured with a legal seatbelt while on the road. Anything otherwise is both illegal and dangerous to all.
This is highly debated in the RV community and word on the street is that many people do this regularly.
14. Can you take a hot shower in an RV?
Yes, comfortably in larger units. To read how long can I shower in an RV? read here
15. What is the average lifespan of an RV?
The average life of a class A motorhome should be around 200,000 miles if you take good care of it and perform regular maintenance. Of course, this depends on each manufacturer, the material quality, and the craftsmanship.
16. What is a TOAD vehicle?
A toad is a vehicle you tow behind your motorhome. It's there so you can set up camp and still have an easy way of traveling around without having to drive your RV everywhere.
What is the best vehicle to tow behind my RV?
17. Can I live in my RV?
Yes, it is legal to live in an RV. To stay within the law, you will need to take care to follow local zoning laws and ordinances that may govern where you can park your RV. You may also need access to water and sewer if you plan to park in one place or on your own land on a permanent basis.
If this is something that interests you and wondering how much it costs to live in RV full-time.
18. How much do RVs weigh?
RV weights vary greatly depending on the type and size of the model. On average an RV weighs around 10,000 pounds with a dry weight (without food, water, gas, supplies, or people)
RV is a broad category that covers everything from a small teardrop trailer to a very large class-A motorhome. Obviously, as the size goes up, so does the weight of your RV. In the article below we talk about those different RV types and the average weights of each.
For details on how much does an RV weigh?
19. Can I drink alcohol as a passenger in an RV?
Currently, 40 states and Washington D.C. forbid the possession and consumption of open alcoholic beverages in motor vehicles. This includes the driver and the passenger in a motorhome.
20. Do you have to wear a seatbelt in the back of the RV?
Requirements differ from state to state – for example: When traveling in Missouri, backseat riders under 15 must buckle up. The driver and front-seat passenger are required to buckle up. Montana – requires everyone in the RV to wear a seat belt. Nebraska – people in the front seat must wear a seat belt.

SHOP WITH PRIME | FREE TRIAL | NEXT DAY DELIVERY | PRESS IMAGE BELOW FOR DETAILS:
Did you know that Amazon Has a "RENEWED" (RETURNED MERCHANDISE AT A DISCOUNT) Page?
These pre-owned products have been professionally inspected, tested and cleaned by Amazon-qualified suppliers. - There will be no visible cosmetic imperfections when held at an arm's length. - Products with batteries will exceed 80% capacity relative to new. - Accessories may not be original, but will be compatible and fully functional. Product may come in generic box.
CHECK THIS PAGE OUT BY PRESSING HERE