If you have ever owned an RV or are currently in the market for one, you understand it is a huge investment. Like any investment you want to make sure you are protected from potential loss or damage. RV insurance should be the first thing that comes to mind, but next, you will be asking, how much are average RV insurance rates?
What are average RV Insurance rates?
In 2022 average insurance rates were around $1500 a year or $125 a month. You can most likely expect this rate to increase in 2023 and beyond with everything else. There are many variables used by insurance companies to figure out their rates. Liability insurance alone can be as little as $125 a year for a small RV. While someone living full-time in a class A RV could expect to pay higher than average.
What information does an RV insurance company use to figure rates?
Type of RV – obviously, it will cost more for a $250k class A than a $2000 pop-up camper.

Age and Condition – You can expect rates to go down as your RV gets older and in most cases worth less money.
Coverages – There are multiple types of coverages you can choose from and have different levels to decide on. It really boils down to how much it will cost to replace your RV and the peace of mind you would like to have.
Usage – recreational or full-time? The more time you spend in your RV, the more opportunities there are for unforeseen accidents to occur.

Driving record – Have you had several tickets in the past? Just like with auto insurance, this is taken into account when quoting your rate.
Claims history – If you have had past accidents, this will also be a deciding factor in your quote.
Where you live – This seems strange, but in most cases, each state has different rates for the same coverage.

Credit score – Yes, your credit score matters when you are quoted for insurance coverage. It is all about liability!
Hopefully, this is helpful in understanding the why's for RV insurance average cost.
If you are researching average RV insurance rates, you may have recently purchased or are in the market to purchase an RV. If this is the case, might I suggest checking with Charlotte RV insurance before you make your final decision?
They have great rates for RVs of all types and their customer service is second to none. When you call it will be a live agent from a local office, not an overworked call center somewhere in the world. So, give them a call or visit their webpage.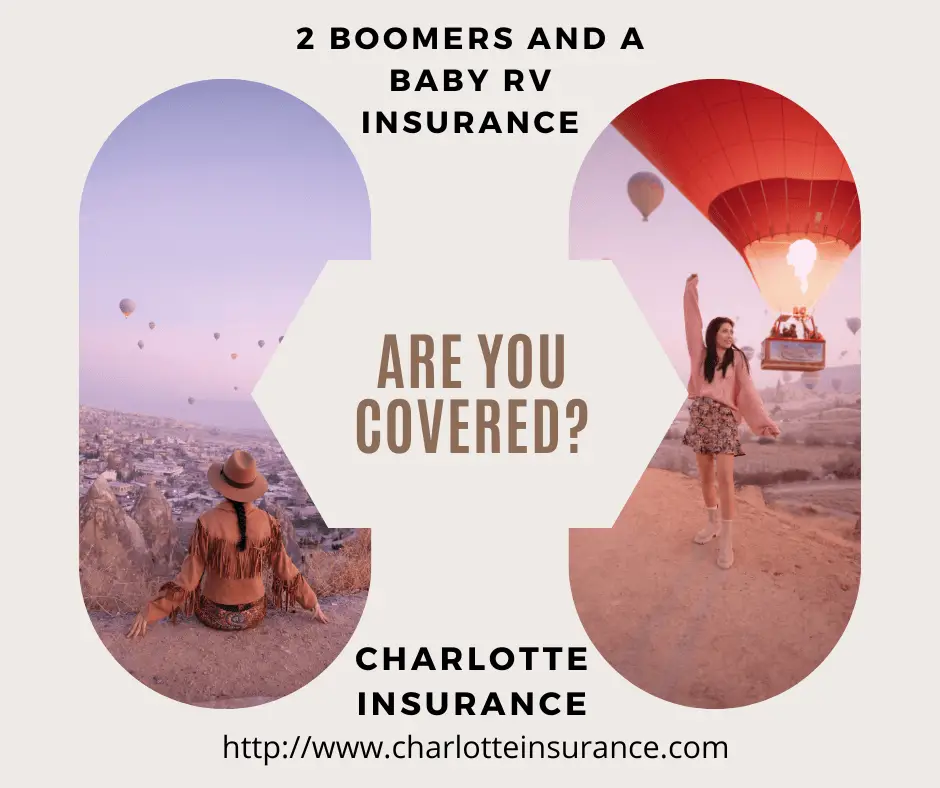 FIND OUT WHY BRIAN, CARLY, and LORELAI TRUST CHARLOTTE INSURANCE TO PROTECT THEIR RIG
GIVE US A CALL AT 704-887-5513 OR FILL OUT THE FORM TO THE RIGHT FOR MORE INFORMATION.
So, let them know 2 Boomers and a Baby RV sent you!
Common RV Insurance Misconceptions
My RV is covered under my homeowner's insurance or auto insurance policies, isn't it?
No. Your RV needs a dedicated policy, especially if you're going to be living full-time, or for extended periods of time. So, get covered.
My homeowner's insurance policy covers all of my personal belongings that are in the RV, doesn't it?
While your homeowner's insurance policy may offer some protection, it's typically very limited. In order to ensure that the belongings that are contained within your rig are covered, you need to work with an experienced insurance agent who can find the right policy for you.
High-quality RV Insurance is expensive, isn't it?
RV insurance is often surprisingly affordable and, when compared to the financial devastation that could come from not having sufficient coverage, it's a deal!
If you are researching RV insurance average cost, you may also want to look into roadside assistance for your RV.
ROADSIDE ASSISTANCE COVERAGE
Roadside Assistance coverage provides towing to the nearest qualified repair facility and necessary labor at the time and place of disablement when RVs are disabled due to:
mechanical or electrical breakdown,
battery failure,
insufficient supply of fuel, oil, water, or other fluids,
flat tire,
lock-out,
entrapment in snow, mud, water, or sand within 100 feet of the roadway.
This coverage extends to trailers and vehicles being towed by a motor home and vehicles towing travel trailers even if the tow vehicle is insured with another insurance company. This service is "Sign and Drive," meaning there are no out-of-pocket expenses; all the insured has to do is sign the receipt and they're back on their way. Roadside Assistance can be obtained 24 hours a day, 7 days a week, anywhere in the U.S. or Canada. Coverage is limited to three covered emergencies for any single covered vehicle in a 12-month period.
Cost varies, but the average cost of about $25 or less per year per vehicle. Obviously, less than you thought.
Conclusion
The bottom line is that just like your home and vehicle, it's important to protect your assets.  RV insurance is flexible, and affordable, and offers plenty of opportunities to receive discounts to get the annual premium down even lower.
Whether you find yourself on a short trip or an extended vacation, know that you have the right protection wherever you find yourself calling home. So, get out there and have fun while enjoying peace of mind.

SHOP WITH PRIME | FREE TRIAL | NEXT DAY DELIVERY | PRESS IMAGE BELOW FOR DETAILS:
Did you know that Amazon Has a "RENEWED" (RETURNED MERCHANDISE AT A DISCOUNT) Page?
These pre-owned products have been professionally inspected, tested and cleaned by Amazon-qualified suppliers. - There will be no visible cosmetic imperfections when held at an arm's length. - Products with batteries will exceed 80% capacity relative to new. - Accessories may not be original, but will be compatible and fully functional. Product may come in generic box.
CHECK THIS PAGE OUT BY PRESSING HERE