Are you someone that enjoys camping in colder months? Or do you actually live in your RV full-time in a cooler region? Popularity has grown 10 fold over the last decade and it can be a rewarding lifestyle for many people. When it comes to camping in the winter, one question most people have is "How do I keep me and my RV from freezing when the temperatures drop outside?"
Of course, you can always fire up your propane heater, but many people are not comfortable with propane. Even though most industry experts state a properly maintained RV furnace is safe to use, certain precautions should be used. Make sure you have smoke and carbon monoxide detectors that are in working order. There is also the fear of running out of propane that is used for running other devices and cooking.
If cold weather is not for you and you are ready to pack it up, we can help with that too. Learn about winterizing your RV and how to prepare for the cold weather that is closing in.
So if we are not using our propane heater, what other options do we have?
Catalytic heaters. Catalytic heaters are one of the safest ways to heat your RV in the winter because, unlike portable heaters that use fuel, catalytic heaters use chemical reactions to produce heat. This means that catalytic heaters do not produce dangerous carbon monoxide gas and are safer for use indoors. Here is everything you need to know about catalytic heaters and how to use them in your RV.
Electric heaters. If your campsite has an electric hook-up, using an electric heater can be a great option. Small electric heaters can be used to keep sleeping areas warm at night without turning the main furnace up too high. If using an electric heater, be aware of fire risk and follow all safety instructions closely.
Portable heater. For campsites without electricity, portable space heaters are an effective heating option, but they must be used with caution. Portable heaters that use gasoline or another fuel must be used with proper ventilation to prevent carbon monoxide poisoning. If you are using a portable heater in your RV, be sure your carbon monoxide detector is working and keep your RV air vents open at all times.
What to look for in an RV space heater
Size: How much space are you needing to heat? A larger RV will require a more powerful heater of course or are you just wanting to heat the bedroom?
Weight: If you will be moving your heater around your RV, then a lightweight model would be the best option.
Efficiency: Look for a high-efficiency model with thermostat controls, timer, and temperature settings

Safety Features: Make safety a priority with auto shut-off for tip-overs and overheating. Also, assure there are no exposed heating elements or choose a cool touch device.
5 Best space heaters for Camping in the winter
Small Spaces Ceramic Heater – Heats 60 s.f.
Best Small Space Economy Heater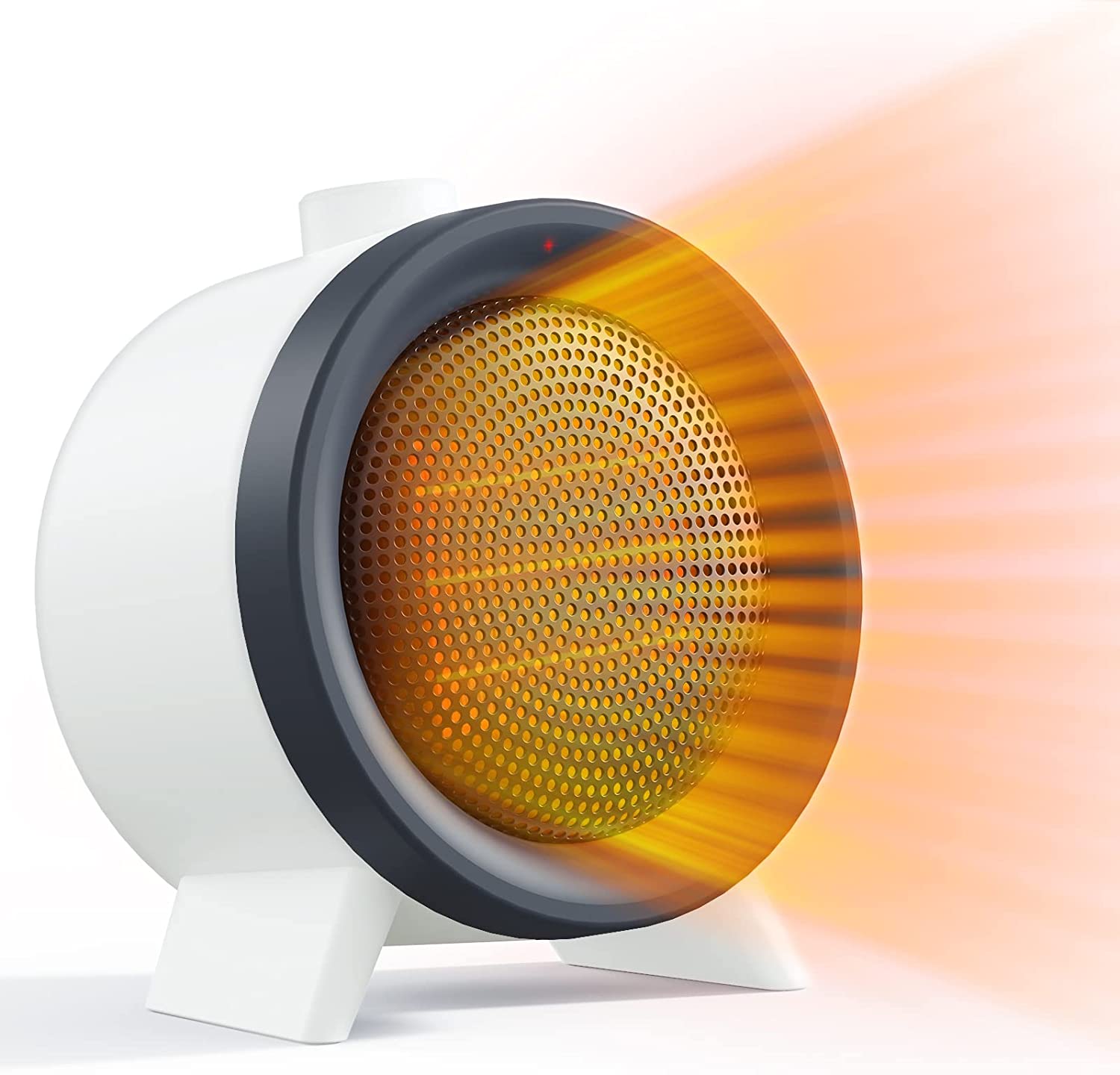 ENERGY EFFICIENT HEATER: Features 2 levels of heat, including low heat "I" that heats at 700 watts and high heat "II" that heats faster and hotter at 1000 watts, so you can select what you need without worrying about wasting heat; easily control the temperature by rotating the knob for instant warmth.
SAFE ROOM HEATER: The heater is made of flame-retardant material to achieve zero fire hazard. built-in tip-over protection and overheat protection ensure that the electric space heater operates safely, perfect for houses that have kids and pets.
Electric Heater – Best bang for the Buck – Heats 170 s.f.
This rugged electric heater with a built-in adjustable thermostat keeps the room warm on the chilliest of nights. Great for use at home, in the cottage, or in the RV.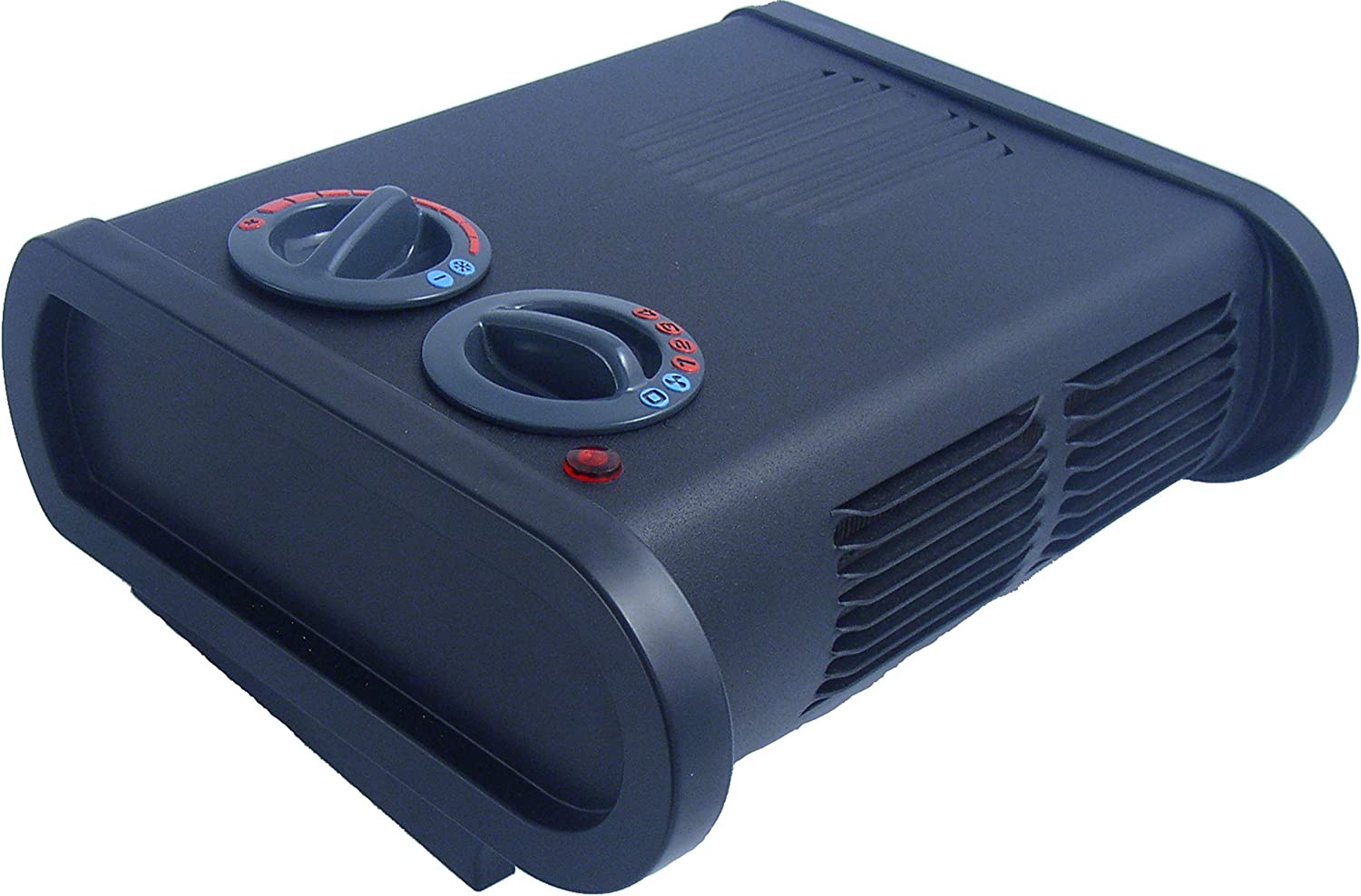 5 Settings
Dual overheat protection
5-year Warranty

The anti-freeze Setting comes on at 38°F / 3°C
Built-in Canada
Ceramic Heater – Powerful and Stylish – Heats 300 s.f.
Best Dectrative and Functionality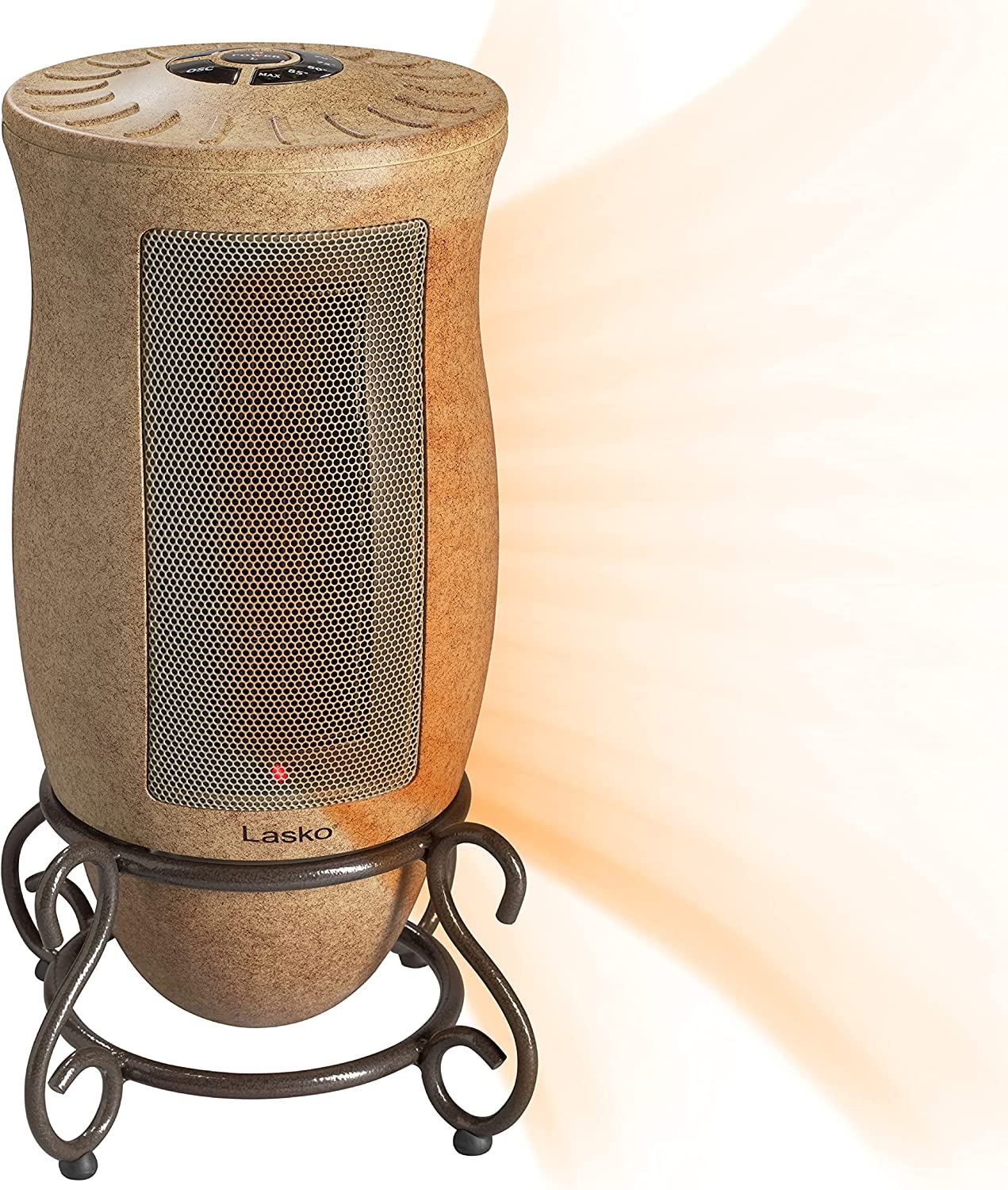 Widespread oscillation

Adjustable thermostat with an automatic shut-off timer
Fully assembled. 10″ x 10″ x 16″ tall
1500 watts of comforting warmth with high, low, and thermostat-controlled settings. Do not plug the heater into any other cord-connected device such as a power strip, surge protector, multiple outlet adapter, cord reel, or outlet-type air freshener

ETL listed. Oscillation for broad coverage. Please note: No remote
Catalytic Safety Heater – Heats 230 s.f.
Safety and Energy Efficient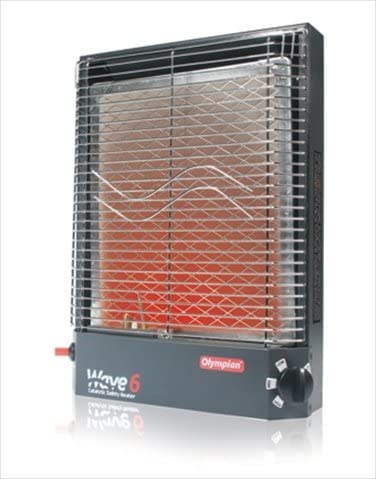 No flame, flue, or chimney
No electrical drain or battery connection makes it the ideal solution for boondocking and dry camping
Silent operation – No fan or blower noise
Self-generating piezo starter
100% safety shut-off valve
Radiant Heater for larger Spaces – Heats 300 s.f.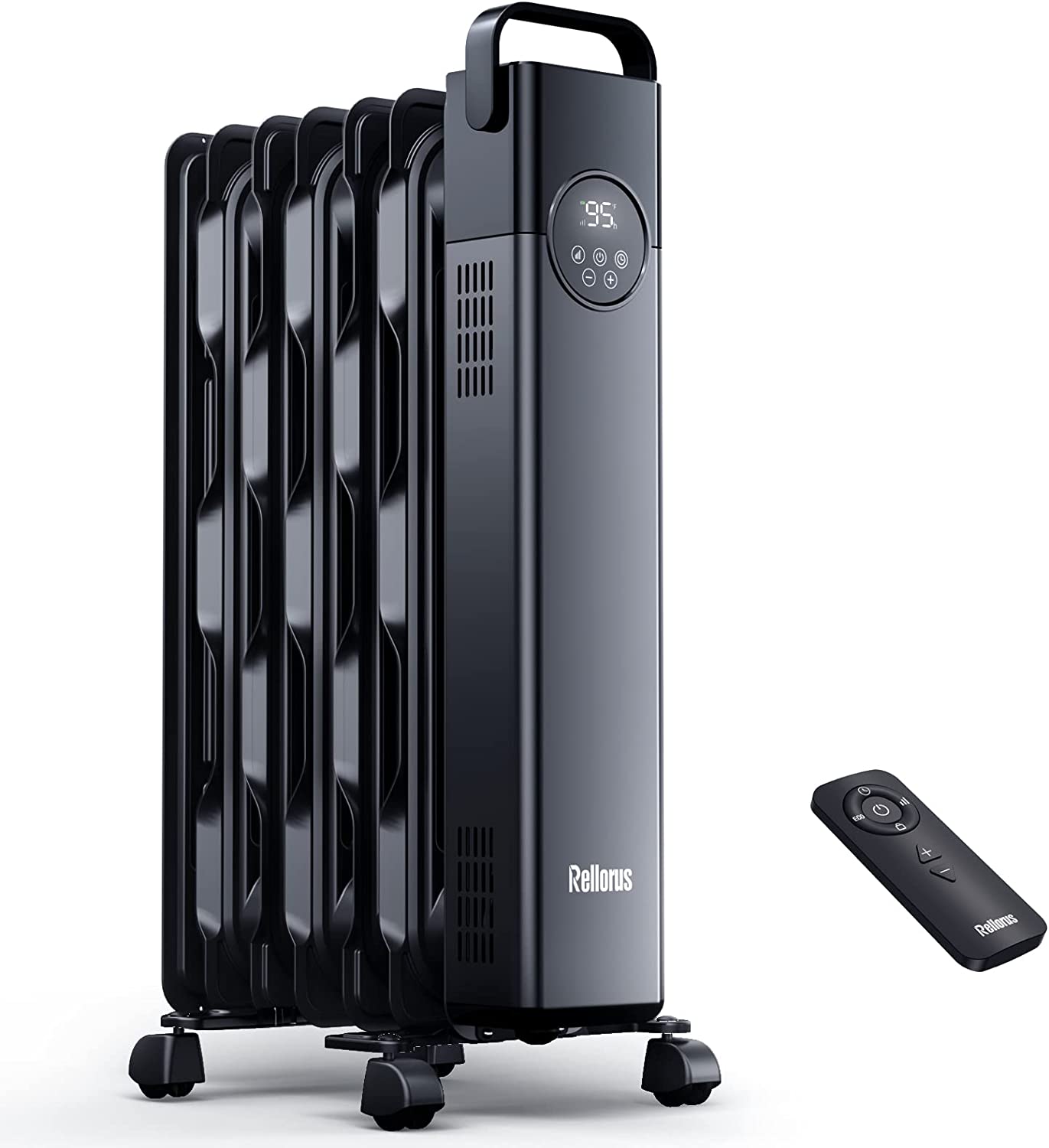 Personalized Comfort Heating Modes: Rellorus radiator heater is equipped with 600W/900W/1500W heating modes for quick heating, it also comes with an ECO mode that you can activate if you're looking to get a more cost-effective way of using electricity.
Precise Electric Thermostat: Set your temperature from 41℉ to 95℉ in 1℉ increments. It gives you more control to heat different size spaces up to 300 square feet and can be used in variable temperature conditions.
Digital Display and Touch Control: An upgraded cool-looking LED panel and better interface, just one touch to adjust your space heater. The remote control also provides 19-feet access to all the heater settings.
Our Choice for camping in the winter
If you have a place to add a small fireplace, this is one amazing heater. Only 23" and heats up to 400 s.f.
750/1500 W – thermostat and tip-over shut off
Realistic flame and 7 different lighting colors to choose from.
May currently be unavailable on Amazon, but this checked everything off of our list.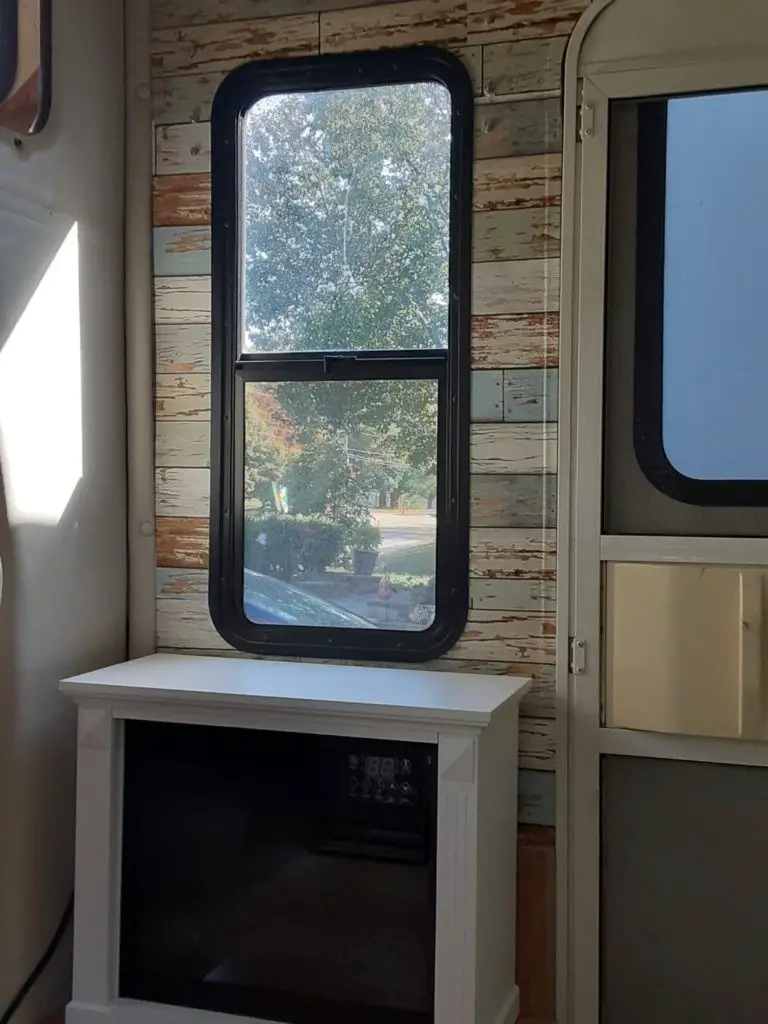 We removed the swivel bucket earlier in the process and the fireplace fit right in.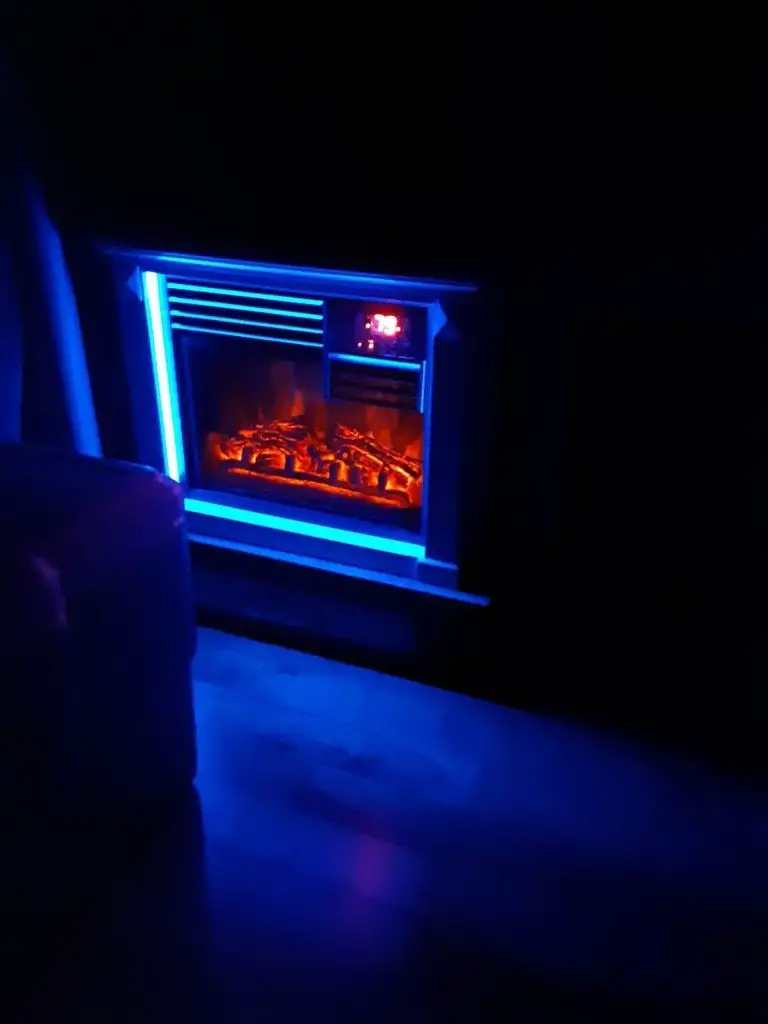 We definitely love the ambiance it sets with the variety of colors available.
Plenty of cozy heat to go around!
Keeping my RV warm in the winter

Tips for camping in the winter
Insulate your RV or Camper
Camping in the winter can be a great time to see parks and campgrounds from a different perspective. Fewer crowds and in most cases more peaceful.
Seal the windows and doors. Examine the seals and caulking around your RV windows and replace any areas that are missing or weak. Replace weather stripping around exterior doors to prevent cold air or moisture from leaking in.
Install window covering. Window film and reflective foil are affordable and effective ways to further insulate your RV windows. Foil-lined reflective insulation can be cut to fit your RV windows and has the added bonus of reflecting heat back into the camper.
Use heavy drapes. Thick fabric drapes block cold drafts around windows and keep warm air in during chilly evenings. Insulated curtains can also be used to separate the cockpit and living space, so you have a smaller area to heat.

Insulate the floors. Foam board flooring can be used to insulate the RV floor. If you prefer not to purchase foam board flooring, heavy rugs or carpets can also help block cold air that may come up.
Install RV skirting. Wind blowing underneath your RV can cause water tanks to freeze and suck heat out. Installing RV skirting around the base of the RV can block cold winds from damaging vehicle components and chilling the interior. Foam boards can also be used with or instead of skirting to better insulate the base of your RV.
Protect water pipes
When camping in the winter, water supplies and pipes need special attention. The last thing you want is a pipe to burst or your black tank to freeze and crack.
Use heat tape on pipes and hoses. Wrap your freshwater hose and sewer hose with heat strips to keep the lines warm and prevent freezing. Heat tape can be applied around valves and connections most at risk of freeze-ups. You can also add foam insulation in addition to heat tape for extra protection.
Warm your internal plumbing. Open your bathroom and kitchen cabinets, so your trailer's heating can keep your internal plumbing warm. Allowing a small drip from faucets can also help combat freezing by keeping water moving.
Use the internal freshwater tank. Instead of connecting your RV to external water sources, fill the internal freshwater tank to use as your primary water source. This allows you to disconnect and safely store your freshwater hose.
Use a space heater. If your RV water lines or water pump are not protected by a heat source, you can also use a small space heater to help prevent freezing. Practice safety precautions by keeping space heaters the appropriate distance away from RV components and vents.
Add antifreeze. Adding a small amount of antifreeze in holding tanks can protect the valves from freezing.
Dump tanks wisely. Only dump tanks when they are full to reduce the risk of freezing. Keep waste valves closed when not in use.