As a longtime RVer and retired traveling journalist, I have a balanced perspective on RV vs. hotel stays. Here's why an RV wins…
As a longtime RVer and RV blogger, you may think I'm unfairly biased toward staying in an RV vs. a hotel. But, before you decide to devalue my opinion, let me share with you that I am also a retired journalist. 
Deemed "one of America's most well-traveled reporters," I spent four decades hopping planes and staying in hotels. So, believe me, I'm well-acquainted with both travel options. 
In my experienced opinion, staying in an RV wins (almost) every time. I'm going to tell you the top reasons why…
We use affiliate links and may receive a small commission on purchases at no added cost to you. Thank you for your support. You can read our full affiliate disclosure here.
7 Reasons Why an RV is Better Than a Hotel Stay
There are always exceptions, but RVing is often cheaper, easier, and more comfortable than staying in a hotel. I'll discuss a few exceptions at the end, but let's jump into the benefits of RV vs. hotel stay first.
1. Campgrounds & Boondocking
Campgrounds (especially at state and national parks) tend to be significantly cheaper than hotel rooms. A night at a state or national park usually runs $30-$50, whereas a nearby hotel to such natural attractions usually runs $150-$250. 
Even private campgrounds are usually significantly cheaper than hotels. This is especially true near major attractions, like theme parks or other busy destinations. 
Granted, some RV parks with high-end amenities can be the same price or more, but campgrounds are cheaper than hotels for the most part.
2. Boondocking Is Even Cheaper!
Jennifer and I are avid boondockers. Boondocking is a self-contained camping style that doesn't require hookups. So, you can camp anywhere you're allowed to park. 
When boondocking, you have many more cheap or free camping options available to you.
Plus, you get to explore more secluded areas and be away from the sometimes noisy campgrounds.
Check this out to learn more…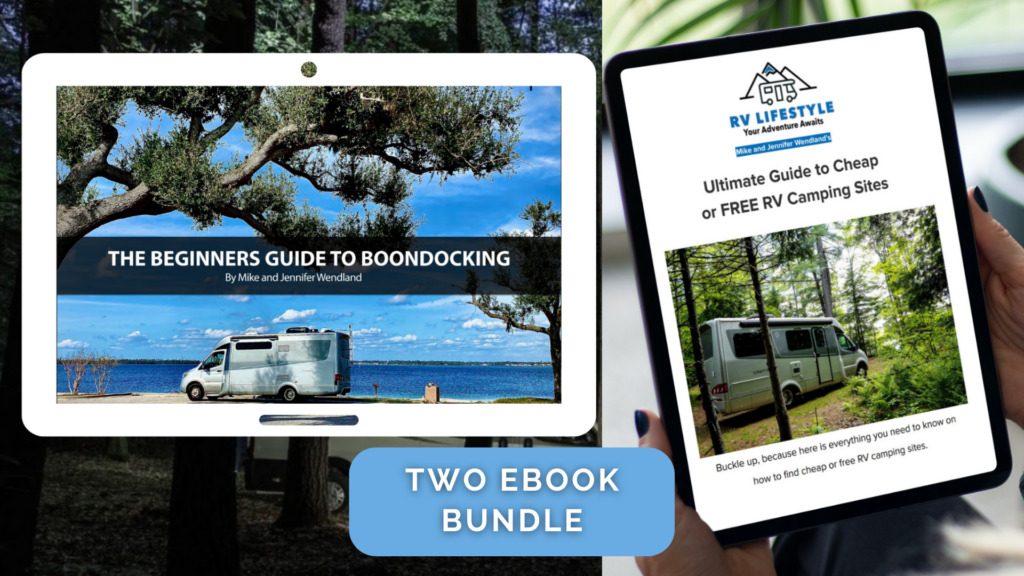 Beginners Guide to Boondocking (one of our most popular ebooks) and one of our newest ebooks, The Ultimate Guide to Free and Cheap RV Camping!
ebook #1: Beginners Guide to Boondocking
We created a 65+-page downloadable digital guide to help you understand the nuances that come with boondocking, the most common boondocking problems, and what you need to do to get your rig "boondocking-ready."
ebook #2: The Ultimate Guide to Free and Cheap RV Camping
Buckle up because here is everything you need to know on how to find cheap or free RV camping sites in the 33-page EBOOK.
---
3. No Living Out of a Suitcase
I lived much of my adult life out of a suitcase. So, believe me you, this is a big PRO for RVs. Not having to unpack, repack, and lug suitcases around is a big plus.
When you stay in an RV, you can neatly organize and KEEP your stuff in drawers and closet space. You don't even have to repack for every road trip within the same season.
4. More Pet-Friendly
Taking our dog, Bo, with us RVing is a huge plus for Jennifer and me. It's hard to find pet-friendly vacation rentals and hotels, which made us a lot less interested in hotel stays.
We've stocked our RV with the Best Dog Camping Accessories and enjoy all the perks of traveling with a dog.
This perk is particularly beneficial to cat owners. While some hotels and vacation rentals do allow dogs, most do not allow cats! In an RV, you can get these purrrfect cat travel accessories and bring your kitty along for the trip.
5. Sleep In Your Own Bed
Like what you see in these videos? We'd appreciate it if you would Subscribe to our YouTube Channel (easy to do right here) and consider "ringing the bell icon" to be notified of any new video from us. Thanks!
Every new hotel you stay at has different bedding and pillows. There's no guarantee of their quality nor the quality of sleep you'll get.
When you RV, you take your bed and all your favorite linens wherever you go. We've found the 3 Best RV Bedding Solutions that help promise a good night's sleep wherever we go.
6. Save Money with Your Own Kitchen
One of the biggest expenses of staying in a hotel is not the cost of the hotel itself. Rather, it's having to eat out for every meal. 
Traveling with a stocked kitchen in your RV saves a lot of money. Your travel budget will stretch farther and you'll get to travel longer.
7. More Travel Flexibility
Jennifer and I are big fans of "Serendipity Travel." That's when we hit the road with only a loose itinerary, leaving room for the road to lead us to our next adventure. 
When we travel this way, we end up having unexpected experiences we could never have planned in advance. Traveling in our RV, gives us the most flexibility to travel like this.
Furthermore, as boondockers, we often have much more flexible check-in and check-out times (often no set times at all!). Many campgrounds have more generous check-in and check-out times than hotels as well.
The Exceptions (When Hotels Win)
There are, of course, exceptions to RVing being better than staying in an RV. In some cases, it is better to stay in a hotel than in an RV.
For instance, it may be better to stay in a hotel if you're traveling to a destination that's far away for a short duration. Driving to the destination, of course, takes more time than flying, and gas prices sometimes cost even more than flights!
Another exception is when you don't feel up to doing cleaning and maintenance. Having maid service is certainly a big mark in favor of hotels. 
Sometimes, you can get really great deals on all-inclusive resorts. This type of full-service can be comparable cost-wise to RV resorts with similar amenities. 
There are other exceptions, of course, but those tend to be the main reason people opt for hotels over RVs. If you're an avid hotel fan, let us know if you have other reasons why in the comments below. 
We RVers may wander far and wide, but it's true for most of us that we end up with some favorite "Go-To" places – places that draw us back again and again.
Stretching from the Gulf Islands National Seashore near Pensacola to the west and going all the way up along to Clearwater, Naples, and beyond – this is an area of contrasts.
There are more upscale shopping centers, fine restaurants, and busy little chic boutiques along the Gulf Coast than you will find just about anywhere else.
But just off those main drags and highways are quiet, tranquil places and the most glorious sugar-sand beaches we've found anywhere in America.
And, of course, the ocean water. Crystal-clear, turquoise, and emerald-colored. In some places, it looks like you are in the Caribbean.
We're confident you'll find a little slice of paradise here to call your own.
This guide is a seven-day guided exploration of Florida's Gulf Coast!
---
---
---