I really can't think of much that is more exciting than hitting the open road and not turning back in my RV. Moving from town to town, park to park, and adventure to adventure just gets my blood flowing. As awesome as that sounds you still need to make sure you and your family are protected from unseen mishaps. There are so many things that could happen from a tire blowout, swiping an object or God forbid a traffic accident. This is where insurance for Full Time RVers comes into play.
Full-time RV insurance is an optional coverage that provides protection for those who use their RV as their permanent residence — typically defined as residing in a motorhome or travel trailer more than six months out of the year. With full-timers insurance, you're covered against liabilities, injuries, and certain losses that occur around your RV.
How can I find the best rate?
The best RV insurance policy for you will depend on a number of factors, such as your driving habits, age, and the class of RV. You also want to consider how often you'll be using your RV throughout the year.
Do your research and know the essential factors to consider before making your choice.
Not all insurance companies are created equally, talk to an agent, talk to friends or fellow RVers, and check their reviews from multiple sources.
The more quotes you get from different insurance companies, the better your chances of obtaining the best rates.
Best RV insurance features for full-time RVers
Full-time RVers should consider having a more comprehensive policy with these coverage add-ons:
Personal property coverage: Covers the cost of replacing any damaged or stolen personal effects. This includes clothing, furniture, jewelry, and computers, for example.
Total loss replacement: Replaces your RV with an equal or similar model if your vehicle is ever stolen or totaled in an accident. In other cases, the insurer might reimburse you for the original purchase price. Note that lenders might require this coverage if you finance your RV.
Full-time RV liability coverage: Adds extra liability, and medical expenses are covered if you live in your RV for six months or more each year.
Emergency expense allowance: Covers living and travel expenses like car rentals, lodging and food for up to a specified amount if your RV leaves you stranded, usually more than 100 miles away.
Specialized coverage: Can replace appliances like awnings, satellite dishes, and solar panels and can even provide coverage for any pet injuries that happen in the vehicle.
Loss assessment: Helps pay for fees charged by RV associations for damage to common areas in a campsite, for example.
Best Insurance for Full Timers
Best Overall RV Insurance Company: Charlotte RV Insurance
PROS
Customer Service second to none

Offers full-timer coverage
Talk to a real person, not a call center
CONS
Roadside assistance is not included with a standard coverage
Not a direct insurer
Policies not available in all states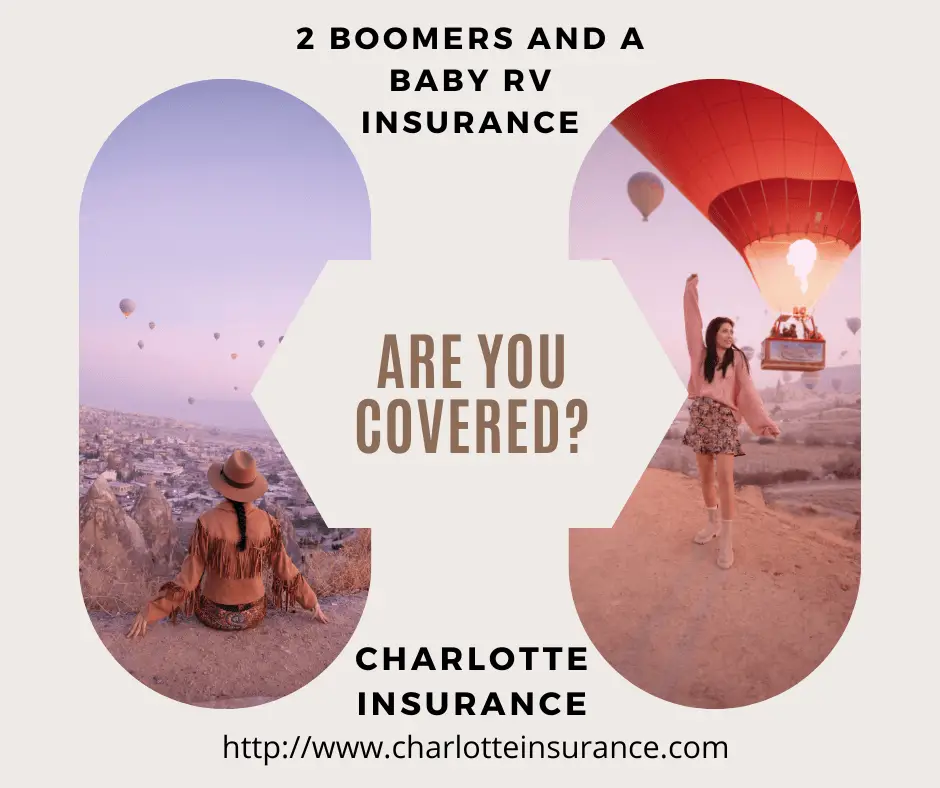 Best for Disappearing Deductibles: Progressive
PROS
Accident forgiveness for claims under $500
Horse trailer coverage up to $50k
Pet injury coverage is available
Add-on coverage available for roof malfunction
CONS
The standard plan doesn't include replacing personal belongings or emergency expense coverage
Insurance rates can vary if you buy online or through an agent
Discounts are not available in all states
Best RV Insurance Agency: Good Sam
PROS
Offers full-timer coverage
Manage your policy online without having to contact an agent
Membership gets you discounts on campsites, gear stores, fuel, and more
CONS
Roadside assistance is not included with the standard coverage
Not a direct insurer
Good Sam Insurance Agency is the best option for those who need help choosing coverage. It connects you with some of the best RV insurance companies available and helps you get a comprehensive policy that fits your needs.
Good Sam is also an excellent option for people who drive their RV across the border to Mexico. The company partners with MexicoInsuranceOnline.com, which can pair you with one of three different Mexico-based insurers. Agents can recommend add-ons for your cross-border travels based on your specific needs and you can purchase policies for a single-day trip or longer.
Best for Full Replacement Cost Coverage: National General
PROS
Coverage for specialized equipment such as solar panels
Pause your coverage when your RV is in storage
Experts help you find a new RV in the event of total loss
CONS
Eligibility, benefits, coverage, and discounts vary per state
Limited information about policies on their website
Best for Multiple Discounts: Nationwide
PROS
Free yearly insurance review to evaluate your coverage options and possible discounts
Optional towing coverage includes lodging, transportation, and meals
Multiple policies are available, making it easy to bundle and save
CONS
Quotes not available online
Other RV Insurance companies we considered
During our research for the best recreational vehicle insurance providers, we narrowed down our initial list to 5 companies. The following didn't make our final cut, not because they were lacking, but rather because other competitors stood out more.
AAA
PROS
Covers motorhomes, travel trailers, and campers
The membership plan includes roadside assistance, hotel discounts, and more

Extra coverage for lodging and transportation if your RV is damaged
CONS
Coverage options are not standard across regions (southwest, northeast, etc.)
RV policy not available nationwide
Limited information available online
Allstate
PROS
Discount if you transfer from another insurance company
Discounts for drivers 55 years or older
Gas price locator to help you find the cheapest gas
CONS
Limited information on the company website
Online quotes are not available
Geico
PROS
Windshield deductible covers repairs and charges only $50 for total replacements
​​Personal effects replacement limits up to $100,000
Free accident forgiveness for drivers who have been accident-free for 5 years or more
CONS
Limited information available on the company website
Enhanced RV coverage is available in all states except HI, MA, MI, and NC
Total loss replacement coverage availability may vary by state and vehicle value
Safeco
PROS
Loan or lease protection coverage available
Deductibles diminish $100 per year up to $500
Insures motorhomes valued at up to $1 million
Coverage available for custom equipment
CONS
Only covers vehicles used 250 days or less per year
Limited information available on the website
No online quotes are available
Foremost
PROS
Coverage for emergency expenses if the camper is damaged or destroyed
Pays for transportation of damaged RV to storage, repair shop, or home
Full-time coverage for travel trailers, motor homes, luxury motor coaches, and more

Special policies for USAA members
CONS
Not available in DC or Hawaii

Limited information on the website
Farmers
PROS
Part-time users can opt for storage-only insurance during the off-season
The policy extends to travel anywhere in Canada
Covers equipment permanently attached to your RV
CONS
No information regarding discounts
No online quotes
USAA
PROS
Discounts for safe driving, original ownership, and multiple policies
Coverage for all RV classes, including slide-on campers
Members get a 5% discount on policies
CONS
Policies only available to military families
5% members-only discount not available in all states
Country Financial
PROS
Multi-policy discount
Mobile app for Apple and Android devices
CONS
Only available through agents
Operates in only 19 states
Limited information available on the website
National Interstate
PROS
Options for RV full-timers

25% off deductibles for each consecutive claim-free year
Windshield replacement coverage
Coverage for commercial RVs
CONS
Only available through agents
Their website lacks information about terms and discounts
The Hartford
PROS
Lifetime guarantee for repairs done in authorized repair shops
24/7 claims submission
RV replacement if it's totaled in the first 15 months
CONS
Only available for AARP members

Not available in U.S. territories
How to Buy RV Insurance
Take time to shop around for insurance quotes
The cost of RV insurance varies depending on your driving history, the state where you live, the vehicle type, and whether you intend to live in the RV full-time or use it for vacations. Additional coverage options like pet and accessories insurance will hike up your premium.
Shopping for multiple quotes can work out to your advantage. The best rates often go to those who compare estimates and coverage options before choosing.
If you don't have the time to shop around, you can consult with an independent insurance agent. They'll usually provide insights to help guide you toward companies with attractive rates and policy features.
Consider bundling multiple policies
Most insurance providers offer a multi-policy discount when you combine your RV insurance with other qualified policies.
You can save on premiums by combining your RV's policy with your current auto, home, or boat insurance. Some insurers also let you bundle your policy with renters or life insurance policies. Bundling multiple policies under one provider can also lessen the hassle of dealing with different companies for claims.
If you don't want to pay two premiums, you can consider adding your RV to your existing auto insurance policy. However, a car's coverage usually extends only to towable campers or trailers, not motorhomes. Also, keep in mind that car insurance might cover damages to the RV and liability but not belongings or appliances inside the RV. Homeowner's insurance might also offer some coverage for RVs, but only when the vehicle is parked at the insured property's premises.
If you have umbrella insurance, it could also cover your RV. This type of insurance covers liability claims that exceed the limits of your primary auto, home, or RV policy, for example. However, do note that its coverage will only kick in if your RV is covered by an underlying policy that meets the liability requirements of the umbrella policy.
Ways to save a little extra
Besides the savings for bundling multiple policies, companies often also offer discounts for:
Paying the total annual policy upfront
Making monthly payments on time
Staying claim-free during the previous policy period
Being the vehicle's original owner
Installing safety features in your RV (a tire pressure monitoring system, for example)
Having a favorable loss history (the record of insurance losses associated with the vehicle)
Being a safe driver (staying accident-free for at least three years)
Taking safety courses
Being a member of an RV association
Reduced insurance premiums are also available for drivers aged 50 and up and not insuring drivers under 25 on the policy. Buyers can also save by going paperless instead of receiving documents or bills through the mail.
Types of RV Insurance
Because RVs can be both a vehicle and a primary residences, there are special considerations when insuring them.
Insurance options for RVs include:
Property damage liability coverage: Pays for damages that you cause to another person's property or vehicle.
Bodily injury liability coverage: Helps pay for medical expenses and to those you injure in an at-fault accident.
Collision coverage: Covers repair to your RV after an accident with another vehicle, whether you're at fault or not.
Comprehensive coverage: Pays for damages caused by theft, vandalism, natural disasters, or fire other non-collision accidents.
Uninsured/Underinsured motorist coverage: This covers the cost of repairs to your RV and medical bills if you're in an accident caused by a driver that doesn't have insurance or who has insufficient coverage to pay your claim.
Personal Injury Protection (PIP): Covers medical expenses for both you and your passenger in the event of an accident, no matter who was at fault. It also covers lost wages.
Campsite/vacation liability coverage: Helps pay for legal expenses if you're found at fault for the injuries suffered by a non-family member while in your campsite area or inside your RV during a short trip.
Roadside Assistance: Offers around-the-clock repairs, towing, and emergency assistance should your RV experience a flat tire, battery discharge, or other malfunction.

SHOP WITH PRIME | FREE TRIAL | NEXT DAY DELIVERY | PRESS IMAGE BELOW FOR DETAILS:
Did you know that Amazon Has a "RENEWED" (RETURNED MERCHANDISE AT A DISCOUNT) Page?
These pre-owned products have been professionally inspected, tested and cleaned by Amazon-qualified suppliers. - There will be no visible cosmetic imperfections when held at an arm's length. - Products with batteries will exceed 80% capacity relative to new. - Accessories may not be original, but will be compatible and fully functional. Product may come in generic box.
CHECK THIS PAGE OUT BY PRESSING HERE